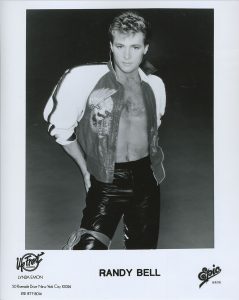 Randy Bell, a 24-year-old resident of Thornton, Colorado, hadn't played many concerts when he struck a deal with a major label. Epic Records released the single "Don't Do Me" in July 1984, and the power-pop ode made a brief appearance on the Billboard singles chart, peaking at No. 93.
"I never played the bars," Bell said of his nascent career. "I put my money into good-quality home-recording equipment—I started doing that when I was 18 or so. I'd go down to the basement and listen to what was popular on the radio, then write my own material based on that and try to record it."
One of Bell's first homemade efforts, an original tune called "More Than Alive," was voted No. 1 by the listeners of Denver's KTLK in the radio station's Colorado Music album contest. Bell entered it under the name "Randy Rock," but ditched the moniker soon after. The local showing led him to the finals of Miller High Life's "Rock to Riches" talent search. At the finals, held in New York's Palladium in April 1982, he wound up with second place.
"Don't Do Me" was the first product to come out of Bell's "long term, multi-album" contract with Epic. He quit his day job at Rocky Flats, a nuclear plant near Denver, in his continuing search for a smash. But Epic styled him as a teenybopper act—his bare-chested visage appeared in such fan magazines as Teen Beat. The one-dimensional marketing plan didn't work, and it put an end to Bell's musical path.