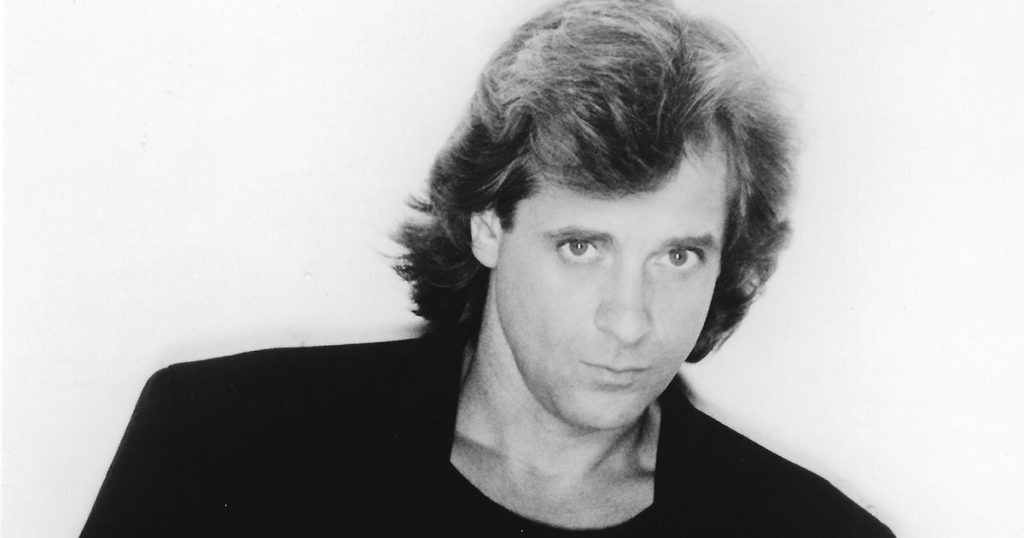 Eddie Money, 1988
1978 was my first full year of contracting with The Denver Post as the popular music beat writer. And Eddie Money called me to make sure that I knew he was coming to Boulder (opening for Santana at Balch Fieldhouse). At three in the morning. He professed to have found my number in his pocket while fumbling for his keys.
"Hey, I'm at last call at my bar, where I get my point spreads. I'm a gamblin' man, and I do what I can when I can…oh, I'm sorry. It's only last call on the West Coast."
I forgave Money for expecting me to share his enthusiasm for odd hours. He was a pretty hot property at that moment, and it was giving him his first opportunity to spout off about his music. His debut album Eddie Money was a smash, and the singles "Baby Hold On" and "Two Tickets to Paradise" were getting tons of radio airplay. Not too bad for a kid from Brooklyn who almost had to chuck rock 'n' roll to become a cop like his father and grandfather. Money had managed to drop out from the police academy and move to the West Coast, where he played in any number of Bay Area groups before Bill Graham made him the first signee to his Wolfgang Productions in 1977.
"I think everything is happening because it's real sincere," he offered in his best rapid-fire street talk. "Graham might be the biggest rock impresario in the world, but all he's given me is a sign that lights up at the end of the set that says 'Eddie Money.' It looks like 'Eat at Joe's.' I'm American, I'm broke, and I'm an ex-radical from the late '60s. It's time for me as a capitalist to make some bread. I ain't got no light show, and I ain't got no smoke bombs. I just give 'em real rock 'n' roll. I'm not out to please anyone but Eddie Money, who is a product of Eddie Mahoney, who was a kid from New York that played in a lot of garage bands. I went back to school to find out why I was enslaved to five chords, being a lead singer for every crazy guitar player in the world. So I learned how to play saxophone and piano, and I took a lot of voice lessons and I took it very seriously. I think I'm as good as Springsteen, but I don't want to say that. I can't believe Graham's managing me, or CBS is recording me, or Premier Talent is booking me. I'm just waiting for it to turn into a pumpkin."
The hits gave credence to Money's mass appeal. "'Baby Hold On' is about my ex-old lady, who was a very rich sorority girl that I broke up with—she left me for some doctor. At the time, I thought I was going to be a rock star, and I said, 'Hey, don't be thinking about what's not enough, just be thinking about what we've got.' I kinda represent the American male inadequacy in a positive way. It's not like New Wave, where 'everything stinks, I can't get a job, I wanna die…' No, that's not me. My thing is, 'Yeah, life stinks, but I've got two tickets to paradise.'"
In 1980, the irrepressible Money headlined at Denver's Rainbow Music Hall, and he hadn't mellowed. That time he squeezed in a call from the Los Angeles airport between flights. I had to love a consummate record peddler who lived for the hustle, and that was Money's game.
Money seemed like the embodiment of uncool in many rock critics' eyes, but he made no pretenses about his musical goals. His forte was radio music, big band anthems that kept with rock tradition rather than break with it. He came up with a real winner on his Playin' for Keeps album—"Trinidad" was perfectly suited for his gravelly, emotive voice. The song's dynamic could be attributed to the artistic conflict between Money and the producer, Ron Nevison.
"I gotta admit he gets great tones—it sounds like a hockey rink up in Canada that's half-filled. But, doc, I'm telling ya, he was hard to work with. We're the same age, and his rap was, 'I don't listen to the radio, the radio listens to me.' I mean, the guy thinks he built the Sistine Chapel himself, you know…"
It was a healthy situation for Money, who was in danger of burning out too quickly in the spotlight—kid scrapes on the streets for years, gets a break to make a record, has two hit singles…and never matches that initial success again. "Yeah, I'm like the guy who goes to a carnival and plunks down his five nickels and takes his best shots until his chances run out," he rambled. "I guess I'm a little overbearing sometimes, but I can't help it—ever since I was a kid, I've always been the guy who grabbed the mic and wanted to be the lead singer."
Sadly, the brilliant "Trinidad" was one of the greatest hit singles that never was, as Money was struggling with various addictions and wound up unable to promote the record. But once he sobered up, he won another round with a string of enduring rock radio hits in the late '80s. "I Wanna Go Back," "Think I'm in Love," "Walk on Water," and "Take Me Home Tonight" (a duet with Ronnie Spector) were my favorites—anybody with an appreciation for the craft of record-making respected the polish and finesse that went into those singles.
Money spent the remainder of his career on the old-school touring circuit. Real Money, his reality television show, debuted in 2018 on AXS TV and reinforced his regular-guy persona. During what he thought was a "routine checkup," he was diagnosed with stage four esophageal cancer. He died on September 13, 2019 from complications associated with a heart valve procedure months prior. He was 70.
I'll miss our chats. He laughed harder than ever when informed of a mondegreen (a misheard lyric) for "Two Tickets to Paradise"—"I've got two chickens to paralyze…" And no one made it easier on my editors—there was never a more irresistible headline for my stories than "Money Talks."
"I'm just a street kid who's always been into the art form of things," he sighed during that first phone conversation. "I feel real romantic, like I'm gonna die before I can make it."
Thankfully, that didn't happen. Classic rock music was better for it. Godspeed, Money Man.