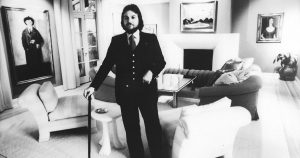 Few people outside the music industry knew of Mac Rebennack's career. But as Dr. John, his enduring character creation, he was accepted enthusiastically worldwide as the acknowledged master of the New Orleans sound.
"Considering I figured I was going to make one record and retire from this racket, it's been surprising," Rebennack said in his distinctive, gravelly drawl prior to one of his many Colorado performances. The music legend died aged 77 on June 6, 2019.
Dr. John's years as the Night Tripper made him a star in the late '60s, but that was a brief aberration in a career otherwise devoted to R&B, blues and jazz. Reared in New Orleans, where his mother modeled professionally (her contacts resulted in his baby picture being featured on Ivory Soap packets), Rebennack was heavily influenced by his father, who owned an appliance store and carried all the "race records" of the day.
"It was located next to Dillard University, a very hip black college. They bought records there, so I soaked up a whole lot of the history of New Orleans music," he said. "There's no way to put it into any one particular category—barrelhouse boogie, funky butt, old-fashioned gut bucket, R&B, Dixieland jazz, the Creole-voodoo culture and blues. I grew up listening to the full range of sounds."
He was weaned on blues club music during his teens, befriending and learning from the likes of Professor Longhair, Huey "Piano" Smith and Fats Domino's band. By the late '50s, he was already performing and recording, mainly as a guitarist, as one of a handful of white musicians on the New Orleans black music scene.
"A lot of us who worked in south Louisiana had to go play what they used to call 'gyp me' jobs, where they booked a band for 10 to 12 hours and there was no break. Everybody had to cover, had to know how to play everything else to keep the music going while somebody had to go to the head. If guys couldn't do that, they didn't stay on them gigs very long," he recalled. "That's what made Clifton Chenier famous before zydeco music ever was heard of. He did it until the '80s. I was wore out with him in the '50s—'Please, don't call me for no more of those.'"
Rebennack had to give up guitar after being shot in a finger in a barroom brawl. He embraced funky piano and his music was never the same again.
"I dug playing the guitar, and I probably would have stayed playing it. But it's just the way life goes, full of surprises. When I got shot, I started playing the drums, but I never knew how to set them up—that used to get me nuts. I was also playing upright bass on this Dixieland gig, and lugging that was as bad as lugging a set of drums around. So I started bringing electronic bass, and those guys hated me for that, the whole frontline horn section. They wouldn't even call me the bass player, they wouldn't even say my name—they'd say, 'the kid on the git-tar.' So I got a gig playing organ, and that's when I started on keyboards professionally."
Rebennack left for Los Angeles and garnered respect as a prolific songwriter and arranger and as an in-demand session player, working from his piano bench with Aretha Franklin, Frank Zappa, B.B. King and others.
In the late 1960s, Rebennack was a producer/A&R man when he conceived Dr. John Creaux, a personage who sold sachets and magic potions in backwoods Creole neighborhoods. After making demos, he recorded the concept himself, and the mythical "gris-gris" man was catapulted into the spotlight, fusing Louisiana funk, gospel and R&B with the emergent psychedelia and hippie mysticism of West Coast rock.
To say that his cult performances were decadent is an understatement. Dr. John appeared onstage in flamboyant bayou sorcerer attire—an ornate feathered headdress, intricate beaded necklaces and garish sequined silver robes—with a similarly attired carnival-type retinue of snake dancers and players. The brilliant musicianship and inspired weirdness made his 1967 album Gris-Gris one of the most enjoyable relics of the era—the groove on the much-covered "I Walk on Gilded Splinters" was hallucinatory.
"But I wanted Ronnie Barron to be Dr. John—he was the singer with my band back then," Rebennack explained. "His manager said it was a bad career move for him, so I did it because I was salty. I figured it would be a one-off maneuver."
Shifting his emphasis toward a more conventional rock path, Dr. John enjoyed some mainstream fame when "Right Place, Wrong Time" and "Such a Night" hit the pop charts in 1973. But Rebennack found himself distinctly uncomfortable. He soured on the workings of the music industry, particularly the bootlegging of his material and the pressures imposed on artists from the record companies.
"I gave up my identity, suddenly I was an artist—and it became a monster," he said of the voodoo trappings. "We were doing a traditional 'snake show' and we became exactly what we all hated about psychedelia. But I always loved that music, it's a big part of Louisiana culture. I'm not a real religious person, but I thought it was worth trying to record."
By the 1980s, thanks to the popularity of zydeco music, Cajun and Creole cooking, and films like The Big Easy that portrayed New Orleans as a vast honky-tonk party lasting until dawn, there was a flood of renewed interest in the Crescent City's rich musical heritage. And Dr. John found himself in demand.
"People get into different things at different times," he drawled. "What I find strange is that people have credited Paul Prudhomme, that he has made people aware of New Orleans and Louisiana music. That cracks me up."
Dr. John then settled into his adopted persona. He'd somewhat mellowed and was relieved to be free of the old star-making jive, having proved himself a master of distinctive ivory-stroking. His mid-career phase included producing artists (from jazz great Bernie Wallace to Harry Connick, Jr.), writing soundtrack contributions (heard in St. Elmo's Fire, Bull Durham and many other movies) and studio sessions (he played and sang on recordings by such artists as Aaron Neville, Taj Mahal and the Dirty Dozen Brass Band). And his whiskey-cured voice graced pitches for everyone from Pepsi-Cola to American Express to Popeye's Chicken.
"I've made more money doing toilet paper jingles than the last seven records I did," he admitted.
Financial and health problems plagued him, but Dr. John was still capable of pulling off innovative events. A 1989 duet version of "Makin' Whoopie" featuring Rickie Lee Jones won a Grammy, and in 1992, he recorded another Grammy winner—Goin' Back to New Orleans, his first-ever album produced in the city that sired and inspired him.
In recent years, Dr. John reigned as an important and influential keeper of the noble New Orleans music tradition. But he lived in New York most of the time, having lost his home in New Orleans in a divorce. He kept busy as a performer with his band the Nite Trippers from 2014 to 2016.
"I take it a little easier at the request of some professional people—mainly my doctor! He said, 'Don't be out on the road no 300 days.' But I'm in good shape. Ain't nothin' don't bother me. That's the nice thing—I've made a lot of friends over the years."